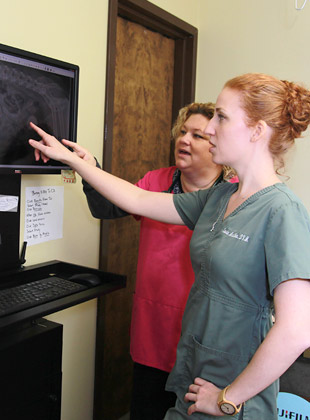 Digital Radiology
Radiographs, or X-rays, are one of the most common and useful diagnostic tools in medicine. At Medford Animal Hospital and Wellness Clinic, we use X-rays to examine your pet's bones, lungs, heart, abdomen, oral cavity and other areas of their body to help diagnose and monitor medical and surgical conditions. If we suspect your pet has a fractured bone, has swallowed a foreign object or is suffering from a heart problem, an X-ray can tell us what we need to need to know so that we can effectively treat you pet.
To provide you with the highest-quality veterinary care for your pet, Medford Animal Hospital and Wellness Clinic has invested in a state-of-the-art digital X-ray machine.
There are many important advantages to digital X-rays:
They are immediately able to be viewed on a computer monitor.
The clear, detailed images can be manipulated to get a better view of your pet's bones and internal organs, leading to a faster and more accurate diagnosis.
They take less time to process, which means less time for your pet on the X-ray table, and less waiting time for you.
No harsh chemicals are needed to develop the images, reducing potential harm to staff and the environment.
If a second opinion is necessary, digital X-rays can be sent directly to a specialist with the click of a button.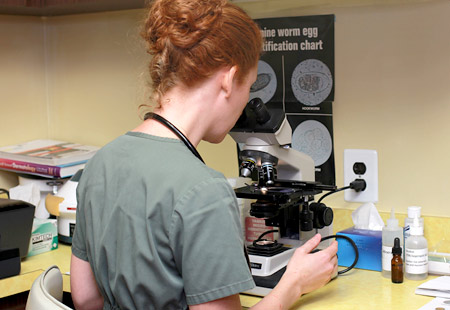 In-House Veterinary Laboratory
Because protecting your pet's health is important to us, we have a complete in-house diagnostic laboratory, including state-of-the-art chemistry and blood count machines. This laboratory allows us to perform a wide range of tests on blood, urine, feces and biopsied tissue. Without timely access to these test results, it would be difficult to make an accurate diagnosis or assessment of your pet's health. Test results can also help us in the early detection of diseases and other conditions affecting your pet's health and well-being.
Laboratory testing provides information about your pet's overall systemic health without the need for invasive and expensive procedures. Thanks to an in-house diagnostic laboratory, we are able to deliver your pet's test results quickly—often within a few minutes—while minimizing the time you need to wait for an accurate diagnosis and treatment plan for your convenience.