Medford, NJ Veterinarians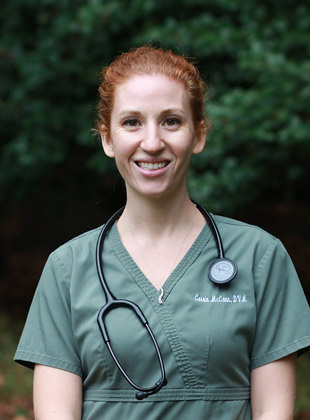 Corrin McCann, Veterinarian and Owner
Dr. Corrin McCann began working at Medford Animal Hospital and Wellness Clinic in March 2016, and became the owner of the hospital in June 2016. She received her Bachelor of Science in Biology from the University of Maryland Baltimore County in 2004 where she graduated cum laude. Dr. McCann went on to receive her Doctorate of Veterinary Medicine from the University of Illinois College of Veterinary Medicine in 2008, earning cum laude honors once again.
Professionally, Dr. McCann is passionate about senior pet care and health, internal medicine, dentistry and dermatology. She is a member of the New Jersey Veterinary Medical Association and the American Veterinary Medical Association.
"I really enjoy getting to know the pet patients and their parents over the years," Dr. McCann says. "I love seeing a pet grow from a puppy or kitten until it reaches its senior years and having the trust, rapport and hopefully friendship with the owners to help them make the best decisions possible for their family. It's a wonderful feeling to be able to help and find a solution to a problem and it's a profound honor to help pets and their owners make tough decisions."
Dr. McCann grew up in Delran, N.J., and knew from a young age that she wanted to help people or animals. She spent most of her free time as a child and teenager at a local barn working with horses. "Being around the horses and helping with the litters of barn cats really ignited my passion for working with animals," she says. Before becoming a veterinarian, Dr. McCann worked and volunteered with several animal organizations, including the Delaware Valley Veterinary Hospital as a veterinary technician, at the Wild Horse Sanctuary as a summer intern, and at the Woodford Cedar Run Wildlife Refuge.
Dr. McCann has one pet of her own at home. Bogart, also known as Bo, is a 10-year-old mixed breed dog who was her first anesthesia patient in junior surgery at veterinary school. He's been her trusty companion ever since. Dr. McCann enjoys spending time with her family, date nights her with husband Chris, traveling, the shore, nature and reading. She has two beautiful boys named Graham and Sawyer.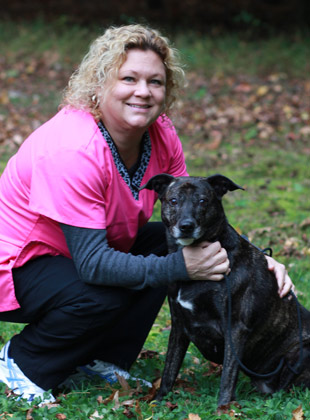 Margaret Thacker, Associate Veterinarian
Dr. Margaret Thacker is an associate veterinarian at Medford Animal Hospital. She enjoys problem solving, teaching, and advocating for pets. Her professional interests include general practice veterinary medicine. Dr. Thacker is a native of New Jersey, and was motivated to become a veterinarian by her father's love of animals.
In 1995, Dr. Thacker graduated from Muhlenberg College with a bachelor's degree in biology. She was a Dana scholar as an undergraduate, which recognizes students who display academic potential, good character, integrity and leadership ability both inside and outside of the classroom. Dr. Thacker was also published by the Pennsylvania Academy of Science before earning her bachelor's degree. After college, she went on to Ross University School of Veterinary Medicine where she received her Doctorate of Veterinary Medicine in 2007.
At home, Margaret has a mixed breed dog named Nina. Her husband, Ray, works at Supply Chain, and she has a son named R.J. Outside of work, she enjoys going to the shore and watching movies.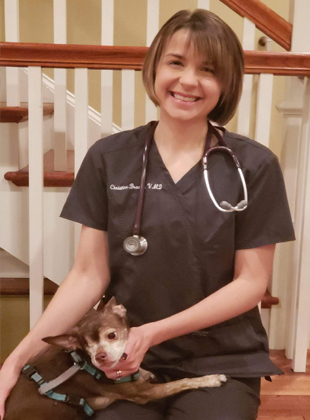 Christine Bradley, Associate Veterinarian
Dr. Bradley is an experienced veterinarian at Medford Animal Hospital. Some of the doctor's daily duties involve preventative care, evaluation of pets, and medical and surgical recommendations depending on each pet's condition.
Dr. Bradley is highly experienced in managing and treating emergency and critically ill patients. She graduated from the University of Pennsylvania School of Veterinary Medicine in 2009 and has been involved in animal-related fields for over twenty years! Dr. Bradley is also professionally affiliated with the AVMA and the VECCS.
At home, she has one short haired cat named Jack, a Chihuahua named Sadie and an Asian Mix dog named Truffles. Dr. Bradley loves working at a facility that provides excellent care with a supportive staff. In her spare time, she enjoys going on walks, yoga, dining out and spending time with family.