Medford Animal Hospital & Wellness Clinic Staff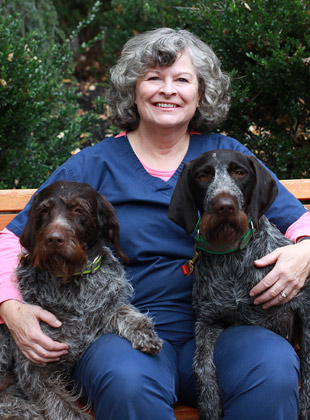 Nancy Bohs, Practice Manager
Nancy has been a member of Medford Animal Hospital & Wellness Clinic team since 1996. Her responsibilities as practice manager include assisting with exams and surgeries, training and client communications. Nancy especially enjoys interacting with clients and their pets, as well as implementing new technologies. She provides the practice with her understanding of animal behavior and an affinity for technology. Nancy has Care Credit and Veterinary Technical Nutrition Counselor certifications, as well as certifications in digital radiology for small animals and radiographic positioning for small animals.
Nancy has been employed in the animal-related field for 44 years, first as a riding instructor, then as a dog breeder and trainer. She continues her work as a dog breeder and trainer in addition to being practice manager.
"This is the best job I have ever had. Our animal hospital is a client-service oriented practice with a family atmosphere," says Nancy. "We have friendly, hard-working employees who are fantastic people and make coming to work a pleasure."
Nancy has three Deutsch-Drahthaar dogs: 10-year-old Tavi, 6-year-old Wendy and 18-month-old Mady. She breeds and trains Deutsch-Drahthaar dogs for field use and hunting tests, and is a member Verein Deutsch Drahthaar Group of North America and Canada.
During her off-time, Nancy enjoys hunting, fishing and dog training. She is a performance judge for versatile hunting dogs and a conformation judge for the Deutsch-Drahthaar, and enjoys traveling to events across the United States and Canada.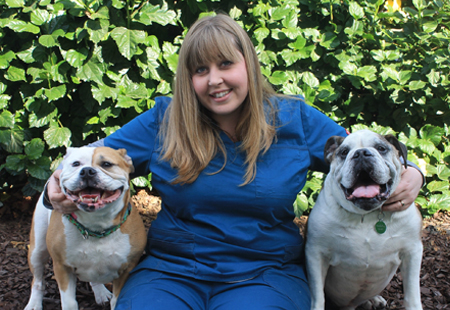 Kimberly Campbell, Veterinary Technician & Technician Manager
Kim joined the Medford team in July of 2017, but has been involved in the animal field for most of her life. Her father was a Registered Veterinary Technician, who taught her about his profession and helped cultivate her interest in learning about, and caring for animals. Her first job was with Camden County Animal Shelter, where she worked for 7 years. Afterwards, Kim followed her passion for animal medicine, taking her to the west coast where she found a job at Amici Pet Hospital in San Diego. She then decided after 3.5 years of working there, that it was time to move back to New Jersey. Once back in New Jersey, she started working at Medford Animal Hospital, and has become an integral part of our wonderful staff.
Assisting our talented doctors with surgeries and dentals, helping with sick and wellness patients during appointments, and maintaining the overall flow of day to day hospital operations are key aspects of Kim's position here at Medford. Her easy-going nature allows her to thrive under pressure, but also be a pleasure to work alongside. She is a driven person, conquering the goals and tasks she sets forth for herself, always to the best of her ability.
"As soon as I left my interview with Medford Animal Hospital I knew this place was special. The warmth, friendliness and positive vibe I received was very comforting. The staff members are so close, and it really is a second family," Kim Says. "I love diagnostics and figuring out the "why" part of veterinary medicine. I also love the customer service side of my job and getting to know the clients and their pets."
During her free-time, Kim enjoys spending time with her husband, family and friends. Kim and her husband have taken a keen interest in the craft beer scene, where they both enjoy going to new breweries, and even making their own brews at home. She also loves to barbeque and just hang around listening to music. Kim and her husband have a "do it yourself" record label, making music a big part of their personal lives.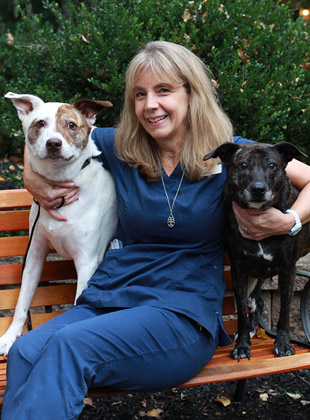 Peg Dobelbower, Veterinary Technician
Peg has been a member of Medford Animal Hospital & Wellness Clinic since 2006. As a veterinary technician, her responsibilities at the clinic include assisting doctors with surgical and dental procedures, anesthesia monitoring, office duties and client care services.
Peg enjoys helping pets feel calm and comfortable during their visit to the clinic. She also appreciates learning from every animal she cares for, including her bloodhound Ruby who taught her to love drool.
"It's been a pleasure working at Medford Animal Hospital. The doctors and staff maintain a friendly and professional relationship and truly care about each other," she says. "I live close by and often encounter pet parents from my neighborhood, my children's schools, the local gym and other places around town. It feels terrific when I hear positive feedback from them about their experience."
Peg has a bachelor's degree from Rutgers University. In the past, she worked at the S.P.C.A. Animal Shelter in North Brunswick.
At home, Peg has two rescued Catahoula Leopard dog mixes named Max and Maggie. The pair are brother and sister and are 8-years-old. Working with dogs comes naturally to Peg. Her husband was a dog trainer throughout his career and her family helped with bloodhound and detection-dog training.
Outside of work, Peg enjoys cycling classes, yoga, reading, hiking, walking and playing with her dogs.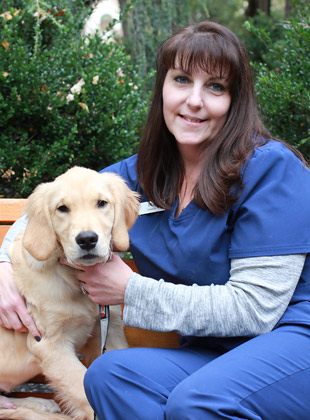 Deb Valenza, Veterinary Technician and Receptionist
Deb joined Medford Animal Hospital & Wellness Clinic in July 2015. Her responsibilities at the clinic include answering phones, checking clients in and out and comforting patients. Of all of her duties, Deb most enjoys interacting with clients and their pets.
At home, Deb has a 13-week-old golden retriever named Enzo, an 11-year-old golden retriever named Cosmo and an 8-year-old Siamese cat named Moe. She enjoys horseback riding, hiking, spending time with family, cooking and fishing.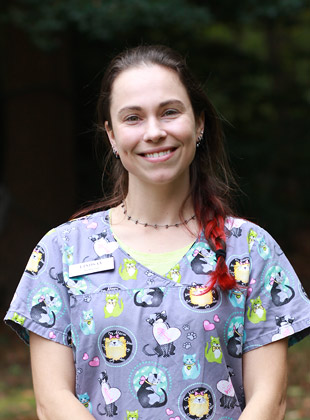 Lindsay Heayn, Veterinary Technician
Lindsay joined the veterinary technician team at Medford Animal Hospital & Wellness Clinic in 2014. Her responsibilities include triaging phone calls, assisting with wellness and sick visits and monitoring pets during surgery. One of her favorite roles as a technician is teaching new pet owners how to care for their new family member.
"I enjoy working at Medford Animal Hospital because it's a family-owned practice with a very relaxed environment," Lindsay says.
At home, Lindsay has a 5-year-old black lab mix named Ivory. She enjoys bike riding, camping and spending time with her family.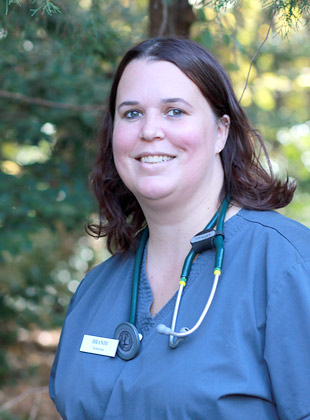 Brandi Schroeder, Veterinary Technician
Brandi joined the Medford Animal Hospital team as a part-time veterinary technician in July 2016. Her responsibilities include assisting in surgery, blood draws and anesthesia monitoring of patients. With almost 20 years of experience, she brings extensive animal-care knowledge to the team and takes pride in making pets feel better.
"I like working at Medford because it is a small, family-like atmosphere with great clients," she says.
At home, Brandi has several pets, including: Irie, a 5-year-old German shepherd, Del, a 2-year-old Australian cattle dog, a cat named Kingston and a female box turtle named Bob. In her free time, she trains her dogs and shows them in obedience trials. Brandi also enjoys spending time with her two sons, Garrett and Oneal.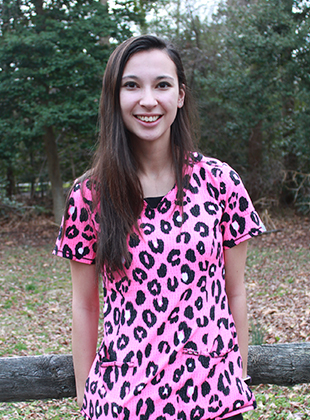 Alexandrea Brett, Veterinary Technician
Alexandrea Brett joined the team at Medford Animal Hospital in February 2017. As a veterinary technician, she is responsible for clerical duties, assisting during examinations and preparing medications and food. Alexandrea has a love for all animals, and her favorite part of the job is getting to interact with lots of pets on a daily basis.
"My pets come to Medford Animal Hospital, so I know how much everyone cares about and loves every animal that comes in," Alexandrea says.
At home, Alexandrea has a boxer/pit bull mix named Bailey, a cockapoo named Roxy and a bearded dragon named Puff. She's currently taking college courses, and in her free time she enjoys reading, hiking, riding bikes, knitting, canoeing and kayaking.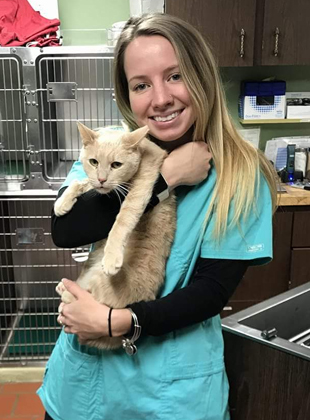 Renee Mackunis, Veterinary Technician
Renee was welcomed to the Medford Animal Hospital team in December of 2017 as a full-time Veterinary Technician. Some of her responsibilities include checking patients and clients in to our facility, assisting in exam rooms, discharging patients after surgery, and many other customer service related tasks. Renee does a great job of making all of our clients and their pets feel like family and shows her bubbly personality which helps her to build meaningful personal relationships with our amazing clientele.
Before coming to Medford Animal Hospital, Renee graduated from Albright College having obtained a B.S. in Environmental Science and minoring in Marine and Aquatic Science. Renee had volunteered at local animal shelters all through high school, which helped drive her passions in the veterinary field.
"Medford Animal Hospital feels like one big happy family." Renee says. "There are awesome clients and awesome animals. Individual, customized treatment for each pet."
At home, Renee has a Domestic Shorthair cat named Charlie, whom she loves dearly. In her spare time, Renee likes to go hiking, taking the time to listen to music, and hanging out with her friends and family.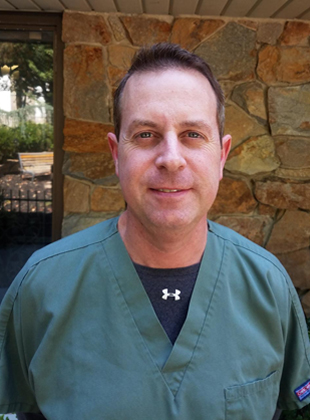 Don Schroeder, Veterinary Technician
Don became a Medford Animal Hospital team member in June of 2018. One of Don's favorite parts about being a Veterinary Technician at MAH is establishing a comprehensible approach to client education and communication. He also enjoys being able to administer anesthesia and IV catheter placements. Some of Don's daily responsibilities include venipuncture, aiding in surgeries, assisting with wellness examinations and sickness related appointments, and much more.
Along with diverse experience in emergency pet care, Don also bring an A.S. in Veterinary Technology from Manor College and is licensed in both New Jersey and Pennsylvania. Prior to obtaining his vet tech degree, Don studied Political Science at WVU. He is also a member of the New Jersey Veterinary Technician Association.
"I enjoy working at Medford Animal Hospital because of the relaxed environment and friendly staff," Don says.
At home, Don likes to travel, go for hikes, ride dirt bikes, go skiing, and making home improvements. He has several pets of his own, including an Italian Greyhound named Spencer, a Chihuahua named Bean, and a DSH cat named Alley.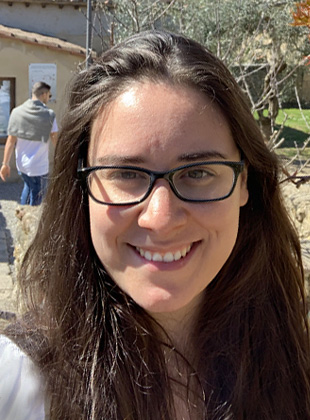 Chantel Luisa Lopes, Veterinary Technician
We are so proud to introduce Chantel Luisa Lopes as one of our full-time Veterinary Technicians here at Medford Animal Hospital and Wellness Clinic! Chantel is known for her positive attitude and dedication to quality patient care! She is passionate about making sure our clients and their pets are satisfied with their veterinary care every time they come in for a visit.
Chantel has a Bachelor of Arts degree from Seton Hall University and has previous experience working with animals at Delaware Valley Animal Hospital. While there, Chantel volunteered to help maintain the kennel and care for overnight patients. Chantel enjoys working at Medford Animal Hospital and Wellness Clinic because of the family environment and the high level of care that our expert staff provides to patients.
In her free time, Chantel loves to spend time with her dogs Riley (5-year-old Border Collie), and Chloe (6-year-old Golden Retriever). She also enjoys traveling, hiking, movies, and baking. We are so happy to have Chantel as part of the Medford Veterinary family!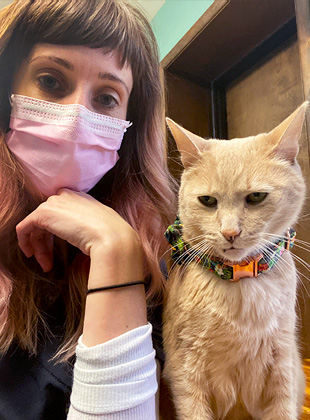 Kelly Clark, Veterinary Technician
Kelly Clark has ten years of experience working as a Veterinary Technician, and over 17 years working in the animal care field. She is skilled at handling difficult patients and situations. Kelly works with training and teaching the patients, as well as pet owners about proper animal care. The patients here at Medford Animal Hospital benefit from Kelly's patience, understanding, and empathy for their overall wellness.
Kelly has an Associates and Bachelor's degree. She joined our team in June of 2020, and has extensive experience working in the veterinary field. From 2002-2007, Kelly worked at Cat Chalet, then at the Veterinary Center of Morris County from 2007-2014. From 2014-2016 Kelly worked at Evesham Vet, RBVH, and then she worked at Garden State Animal Hospital from 2016-2019.
At home, Kelly has three cats. Chippy is a 7-year-old DSH that has Wobbly Cat syndrome, otherwise referred to as Cerebellar Hypoplasia. Biff is a 4-year-old DSH, and Godzilla is a 13-year-old DSH. In her free time, Kelly enjoys hiking, nature, taking care of lots of cactus plants, and volunteering at Blue Ridge Wildlife Hospital in Virginia, where her best friend is Head Technician.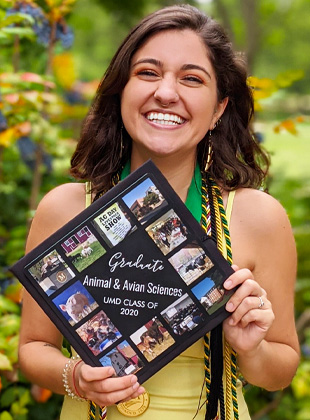 Alyssa Larsen, Veterinary Technician
Full-time Veterinary Technician Alyssa Larsen is responsible for assisting veterinarians with medical procedures and communicating with clients. Alyssa loves learning new things, and she helps create a positive experience for everyone who visits our office. Alyssa has a Bachelor's degree in Animal Science with a Minor in Sustainability. She joined our team in August of 2020, and this is her first job in the animal care field. Alyssa loves working at Medford Animal Hospital because they are so willing to help her learn and grow!
At home, Alyssa has an 8-year-old Dutch Shepherd named Theo. She likes to spend her free time cooking, camping, hiking, dancing, singing, and reading.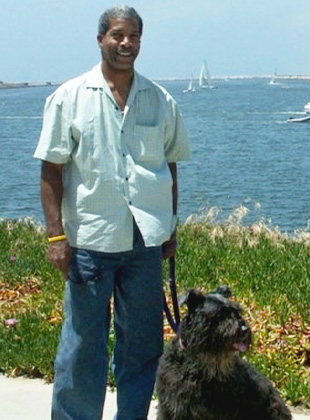 Kenneth Bayard, Veterinary Technician
Kenneth Bayard is a full-time Veterinary Technician. He has excellent people skills and is a Registered Veterinary Technician. Kenneth has a Bachelor of Fine Arts degree as well as an Associates degree. He joined our team in September of 2020, and has 21 years of experience working in the veterinary care field. In his free time, Kenneth enjoys fishing, watching soccer, basketball, and baseball. He is also an audiophile and has an extensive vinyl record collection.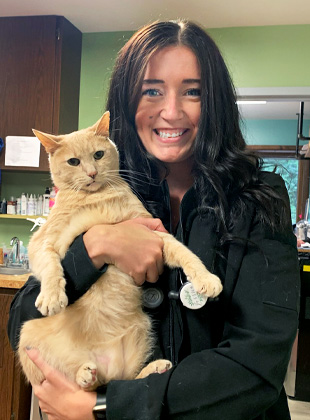 Jessica Keys, Veterinary Technician
Jessica Keys has five years of experience working in the veterinary care field. She joined our team in May of 2020 as a Veterinary Technician, and is responsible for looking after patients, making sure they are happy and healthy, following up with clients, and keeping the doctors on schedule. Jessica enjoys saving lives and is willing to go above and beyond to keep our patients healthy. Before joining our team, Jessica worked as a Manager at a boarding/daycare/grooming facility from 2016-2017. She also worked as a Veterinary Technician from 2017-2019 at another animal care facility.
When asked why she loves working at Medford Animal Hospital, Jessica says, "I love providing comfort and care to animals and I love how willing and able all of my coworkers are to do the same. Everyone wants what is best for the pet."
Jessica has a 7-year-old Cocker Spaniel named Jackson and a 1-year-old Leopard Gecko named Randell. In her free time, Jessica enjoys spending time outdoors with her dog, hiking, camping, and kayaking.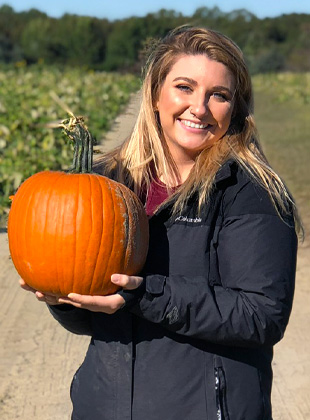 Torunn Gundersen, Veterinary Technician
Torunn Gundersen is a full-time Veterinary Technician who is responsible for providing compassionate care to all of our patients. She is also responsible for restraining pets effectively, performing emergency procedures, and clinical lab procedures. Torunn has five years of experience working in the veterinary care field, and worked as a Zookeeper at the Philadelphia Zoo from December '17-August '20. Torunn also has a BS in Wildlife Conservation from Juniata College, and specializes in animal handling and exotic animal knowledge.
When asked why she liked working at Medford Animal Hospital, Torunn said, "It's a very supportive and positive environment that isn't afraid to teach and inspire. Everyone loves what they do and loves helping each other."
When not in the office, Torunn enjoys caring for their 3-year-old Labrador Retriever Tappy and teaching pet tricks. She also enjoys hiking, biking, dancing, cooling, and reading.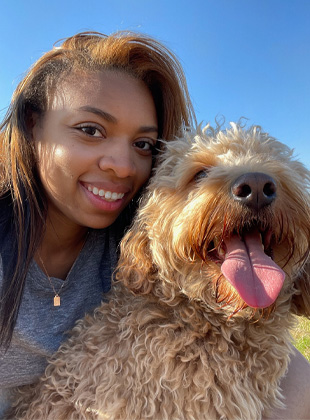 Alexa Blackwell, Veterinary Technician
Alexa Blackwell is a part-time Veterinary Technician here at Medford Animal Hospital. She helps us provide exceptional veterinary care to all of our wonderful patients! Before joining our team in September of 2020, Alexa gained four years of hands-on experience caring for animals at other animal hospitals in the area. She has previously cared for pets at Best Friends Pet Care from 5/16-1/18, Garden State Animal Hospital from 5/17-5/20, and she currently works part-time at Burl-Moor-Driben Animal Hospital where she has been since 5/20.
At home, Alexa has two pets of her very own! Fozzie is a 1-year-old Goldendoodle and Reeses is a 10-year-old Yorkie.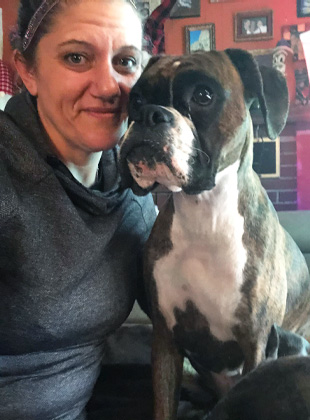 Lauren Reale, Veterinary Technician
Medford Animal Hospital is proud to introduce our full-time Veterinary Technician, Lauren! Since joining our team in December of 2020, she has been responsible for taking vitals, comforting pets, assisting in any way possible, and addressing owner concerns. Lauren is creative and great at getting nail trims done with quickness and ease. She has an Associate's degree in Math & Science and experience working as a dog groomer from 1996-present and as a Naturalist & Educator from 2008-2012. Lauren has also worked at animal rescues as a volunteer throughout the year. She has been working with animals as long back as she can remember. Laruen's aunt had a kennel that Lauren worked at before becoming a groomer at 25.
"I love being in a clinical environment. I enjoy comforting pets through their appointments and helping people understand important aspects of their pets' health. Everyone I work with has been extremely welcoming & helpful. I am very excited to be here."
At home, Lauren has 2 boxers named Prophet and Bettie, 2 cats named B and Darla, a bearded dragon named Stella Blue, and a leopard gecko named Chi-chi. She enjoys grooming and coloring dogs, and believes that most dogs look great with a tye dye splash! In her free time, Lauren and her husband like to work in their glass studio that they have at home. She also loves gardening, yoga, baking, doodling, and hanging with family. She also looks forward to traveling again in the future!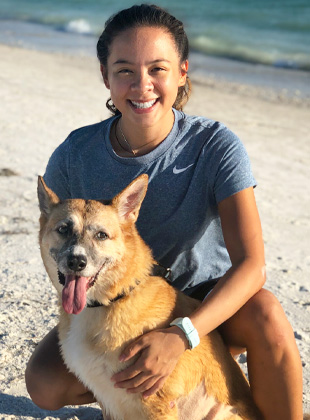 Liz Tan, Veterinary Technician
Liz joined the Medford Animal Hospital full-time on January 7, 2021. She helps with restraining, drawing blood, placing IV catheters, treating patients, and she also has experience working as an exam room tech. She is so passionate about building relationships with our wonderful clients and their fur babies. Liz has such a positive attitude and extensive experience in the animal care field, including in a managerial capacity.
Liz has a BS in Biology and a minor in Chemistry from the Indiana University of Pennsylvania. Before joining our team, Liz gained 5 years of experience working in an animal shelter while in college, an intern at a small animal clinic, and as a manager at her last practice. She also completed an internship in Thailand. Liz loves working here at Medford Animal Hospital because everyone here is so friendly and they truly take great pride in caring for patients!
At home, Liz is a pet parent to Honey (11-year-old German shepherd mix), Mickey (4-year-old lab/pit mix), Simba (2-year-old cat), and Mittens (8-month-old kitten).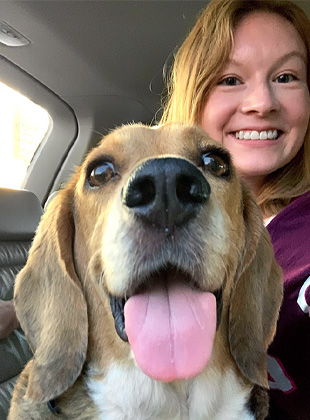 Devynne Avila, Veterinary Assistant
Devynne joined the Medford Animal Hospital team full-time in December of 2020. She is responsible for restraining pets during their appointments, drawing blood, assisting with ultrasounds, preparing samples to be sent to the labs, cleaning, and restocking exam rooms. Devynne makes sure that every patient is comfortable during their appointments, and she is CPR & first aid certified for cats and dogs. Currently, Devynne is enrolled at Camden County College in the Veterinary Technology program with plans to graduate in 2021. Before joining our team, Devynne worked at Peticote Veterinary Clinic from 2019-2020 and she worked as a Veterinary Technician Assistant at Creeks Edge Animal Hospital in 2020.
"The staff and the doctors have been so helpful, warm, and welcoming. I really enjoy the community atmosphere. The doctors are very thorough with each of their patients. Everyone is willing to help, teach, or learn."
At home, Devynne has two 6-year-old beagles named Sophie and Champ, and she has a 13-year-old cat named Minino. Devynne loves spending quality time with close friends and family. She also enjoys shopping, going on day trips, eating at restaurants, and watching Star Wars & Marvel movies.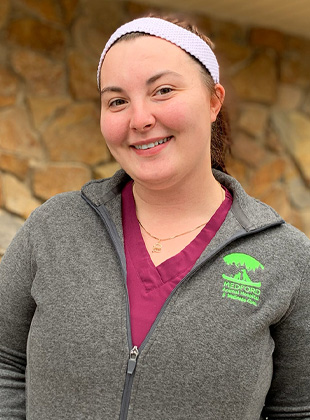 Alyssa Braciszewski, Receptionist
Full-time Receptionist Alyssa Braciszewski joined our team in November of 2020. She is responsible for answering phones, assisting clients with their concerns, and setting appointments. Alyssa is a fast learner and does not get overwhelmed easily. This is her first job in the veterinary care field and we are so happy to have her!
When asked why she likes working at Medford Animal Hospital, Alyssa says, "Everyone here is very friendly and willing to help you. I love seeing all of the animals that come in!"
Alyssa has a 3-year-old boxer/pit mix named Shiloh, and a 7-month-old domestic shorthair cat named Remi. All of Alyssa's free time is spent with her family. She enjoys baking and painting with her daughter, running around with her son and their dog, and playing with her youngest child.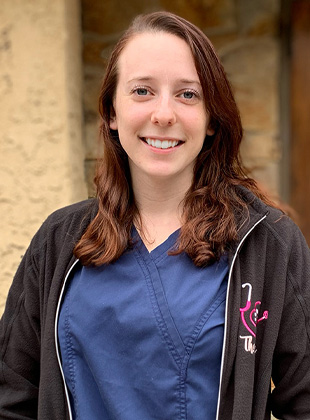 Theresa Evoy, Receptionist
Part-time Receptionist Theresa Evoy helps our office run smoothly by answering the phones, helping clients, and scheduling. She loves interacting with the patients and we love her positive attitude! Currently, Theresa is in vet tech school and she likes to spend time volunteering at Voorhees Animal Shelter. Theresa has always had a love and passion for animals, and she actually grew up taking her pets to Medford Animal Hospital before coming here to work in November of 2020.
At home, Theresa has a chocolate lab named Holly and two rottweilers named Rocky and Bella. She likes to spend her free time baking, volunteering, and going to school.
Lesley Allan, Receptionist
Lesley Allen is a Receptionist here at Medford Animal Hospital. She is responsible for answering the telephone and booking appointments. Lesley is so wonderful at communicating with clients and making pets feel comfortable at their visits. She has a BA in Communication Studies and joined our team part-time in February of 2021.
Lesley loves animals; she has a 5-year-old sealed brindle boxer named Piper and she has been riding horses since she was 7. Lesley has been a client of Medford Animal Hospital since moving to the US almost 6 years ago. She loves working here because everyone is so kind and caring, and she is so happy to be part of the team!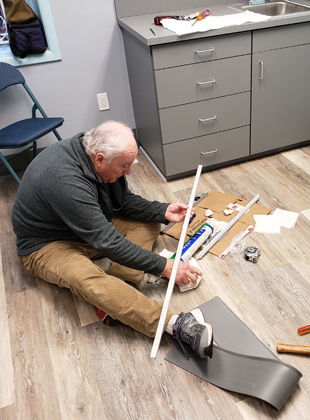 Del Smith, Reception & Handyman
Del is one of the first faces you may see while entering Medford Animal Hospital! Del handles the front desk reception, answers the phones and makes sure the office is maintained. Del received their Bachelor of Science from Rutgers University and has been involved in animal-related fields for over fifteen years! Del is also a licensed horse trainer. At home, Del has two cats.